Transfers and Visiting Students
Transfer Process
UC Davis School of Law is well-known for offering a top-quality legal education in a supportive and accommodating environment, and King Hall has a long tradition of welcoming transfer students from other law schools. Each year, the King Hall community benefits immeasurably from the intellectual contributions of dozens of students who join the UC Davis School of Law student body as second-year transfers. The Law School is committed to helping those students find the educational opportunities they need to succeed in their chosen career paths.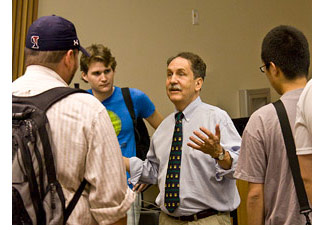 To read profiles of some recent UC Davis School of Law transfer students, follow the links below:
To be eligible for admission to UC Davis School of Law as a transfer student, you must have completed at least one full-time year of study in another American Bar Association-approved law school.  Students in good standing may be admitted to UC Davis School of Law with credit for not more than one year of study.  No more than 30 previously earned units may be credited toward the Juris Doctor degree at King Hall.  Transfer students are admitted for the Fall semester only.  Applications are accepted only from June 1 - June 30 of the year for which admission is sought, and will will be considered only after the Admissions Committee has received transcripts for all prior law school courses. 
Application Filing Checklist
Electronic Application
A letter of good standing from the dean of any law school previously attended, including class rank
At least one letter of recommendation from a law professor
Transcripts of all law school work
LSAT score - registration with the LSDAS/CAS is required
An official transcript from the school where you earned your undergraduate degree stating the date the degree was conferred
$75 non-refundable application fee (fee waivers are not available)
Personal statement
The application period is June 1 - June 30 for admission in Fall semester.
Frequently Asked Questions:
When will I be informed about admission?
Decisions will be made as soon as possible, and applicants will be notified as promptly as circumstances permit.  Notifications typically begin in late June and often continue through July and into the first week of August.
What factors are considered for admission as a transfer?
Prior law school grade point average is the primary factor considered. Applicants performing in the top 5-10 percent of their first-year class receive serious consideration. In exceptional cases, and based on the law school attended, applicants performing slightly lower in the class may be admitted. The LSAT score is also considered.
How many students are typically admitted as transfers?
Transfers are admitted on a space-available basis. The number of offers vary from year to year depending on the number of seats available. The applicant pool usually numbers about 90-100.
How many units must I complete in order to be eligible?
Applicants must have completed at least 30 semester units in order to receive serious consideration for transfer, unless the unit total for full-time first-year attendance at the prior law school is less than 30.
I have completed one year of study in a part-time evening program.  Am I eligible to apply for transfer?
If you have completed the number of units required to move to second-year status at your prior ABA-approved law school, you may apply for admission as a transfer.
I am an international student, and I have completed an LLM degree at an ABA-approved law school. Am I eligible to apply to transfer? How many of my LLM courses will be credited?
Only students who have completed the traditional first year of a Juris Doctor degree program at an American Bar Association-approved law school may apply to transfer.  Credits earned in an LLM program will not be credited toward a Juris Doctor degree at UC Davis Law School.