Welcome
Brian Soucek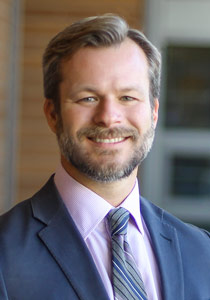 Brian Soucek
Contact Information
bsoucek@ucdavis.edu
530-752-4932
Rm. 1135 King Hall

Education
B.A.

, summa cum laude Philosophy and Economics, Boston College 1998, Phi Beta Kappa


Ph.D.

Philosophy, Columbia University 2006


J.D.

, Yale Law School 2011
Acting Professor of Law
Brian Soucek is a graduate of Boston College (B.A., Philosophy and Economics); Columbia University (Ph.D., Philosophy), where he was awarded the Core Preceptor Prize for his teaching; and Yale Law School (J.D.), where he was Comments Editor for the Yale Law Journal, a Coker Fellow in Procedure and won the Munson Prize for his work in the school's immigration clinic. Prior to law school, Soucek taught for three years in the Humanities Collegiate Division and Philosophy Department at the University of Chicago, where he was Collegiate Assistant Professor and Co-Chair of the Society of Fellows in the Liberal Arts. After law school, he clerked for the late Mark R. Kravitz, United States District Judge for the District of Connecticut, and the Hon. Guido Calabresi of the Second Circuit Court of Appeals.
Full Biography...
In addition to book chapters and articles in the philosophy of art, Soucek's legal publications include work on asylum law, on due process values embodied in contemporary courthouse art, and, most recently, on unpublished appellate opinions and the precedential force they gain by being copied and pasted. He is currently completing articles on a neglected argument for affirmative action and on employment discrimination claims brought by plaintiffs perceived to be gay. Uniting all of these projects is an overarching concern for the role appearances play throughout the law, particularly in two areas that Soucek will be teaching at UC Davis School of Law: antidiscrimination law and civil procedure.
... Close
Special Interests
Constitutional Law, Civil Procedure, Employment Discrimination Law, Immigration Law And Policy, Sexual Orientation And The Law, Law And Cultural Studies
Selected Career Highlights
Clerk for Hon. Guido Calabresi, U.S. Court of Appeals for the Second Circuit, 2012-2013
Clerk for Hon. Mark R. Kravitz, U.S. District Court, District of Connecticut, 2011-2012
Immigration Legal Services Clinic Student Director, Yale Law School, 2009-2011
More Career Highlights...
Collegiate Assistant Professor and Harper Fellow, University of Chicago, 2005-2008
Core Preceptor, Columbia University, 2001-2003
... Close
Selected Publications
More Publications...
Not Representing Justice: Ellsworth Kelly's Abstraction in the Boston Courthouse, 24 YALE J.L. & HUMAN. 287 (2012)
Comment, Social Group Asylum Claims: A Second Look at the New Visibility Requirement, 29 YALE L. & POL'Y REV. 337 (2010)
Resisting the Itch to Redefine Aesthetics, 67 J. AESTHETICS & ART CRITICISM 223 (2009)
Review, The Art of Theater by James R. Hamilton, NOTRE DAME PHIL. REVS. (2008)
The Personification of Art, in NEW WAVES IN AESTHETICS 224 (Kathleen Stock & Katherine Thomson-Jones eds., 2008)
Giovanni auf Naxos, in THE DON GIOVANNI MOMENT 193 (Lydia Goehr & Daniel Herwitz eds., 2006)
Review, Aesthetics and the Philosophy of Art – The Analytic Tradition: An Anthology edited by Peter Lamarque and Stein Haugom Olson, 28 TEACHING PHIL. 288 (2005)
... Close