Welcome
Jihan A. Kahssay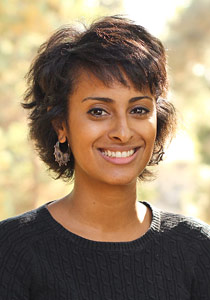 Jihan A. Kahssay
Contact Information
530-752-8045
Rm. TB 30 TB 30

Education
J.D.

, UC Davis School of Law 2012


B.S.

Managerial Economics, UC Davis 2008
Deferred Action for Childhood Arrivals (DACA) Fellow, Immigration Law Clinic
Jihan Kahssay is the Deferred Action for Childhood Arrivals (DACA) Fellow at the UC Davis School of Law Immigration Law Clinic.
Full Biography...
Born in Saudi Arabia to Eritrean parents, Kahssay has spent most of her life in Canada and the United States.  She earned a Bachelor of Science in Managerial Economics from UC Davis in 2008 and a Juris Doctorate from UC Davis School of Law in 2012. At King Hall, she focused on immigration and human rights law, earning certifications from the Law School's Pro Bono and Public Service Law programs.  
As a law student, Kahssay worked for the Immigration Law Clinic, Legal Services of Northern California, and for the United Nations High Commissioner for Refugees (UNHCR) office in Ethiopia, where she identified and assisted more than 100 refugees in their efforts to resettle. She worked for UNCHR as a UC Davis Human Rights Fellow.
Kahssay won the Law School's 2012 Pritikin Award for the top student article submitted to the UC Davis Journal of International Law & Policy (JILP).  That paper, "Lessons Learned from Somalia: Returning to a Humanitarian-Based Humanitarian Intervention," was published by JILP in 2012.  That year, she was also a nominee for the UC Davis School of Law Martin Luther King, Jr. Award.
Since graduating from law school, Kahssay has worked as a research assistant for Professor Leticia Saucedo, Director of Clinical Education at UC Davis School of Law, and written as a guest blogger for IntLawGrrls.
... Close
Special Interests
Immigration Law And Policy, International Human Rights
Selected Career Highlights
Protection Intern, United Nations High Commissioner for Refugees, Ethiopia
Law Clerk, Immigration Law Clinic of UC Davis
Legal Researcher, The Solidarity Center - Rule of Law Division