California International Law Center
Research Projects
Haiti Project
The Haiti Project of the California International Law Center at King Hall and a CILC affiliate, the UC Davis Immigration Law Clinic, endeavors to
draw attention to the plight of Haitians in the wake of the catastrophic January 12, 2010, earthquake. Participants in the Haiti Project plan to report on the status of humanitarian parole, an emergency legal mechanism used in the past to bring needy persons temporarily into the United States. Clinic Lecturer Holly S. Cooper, along with attorneys from the San Francisco law firm of Reed Smith LLP and elsewhere, did the fieldwork for the report. Meeting with hundreds of stricken families while serving on humanitarian legal and medical delegations in Haiti, the attorneys identified many humanitarian parole candidates; in particular, persons who suffered gender-based violence or other serious harms, and who lack water, food, shelter, and other necessities. A number of parole applications already have been denied. The Haiti Project report – due to be released to commemorate the anniversary of the earthquake – will focus on the legal, social, and political implications of the refusal to use humanitarian parole to help victims of Haiti's earthquake.
Darfur Project
CILC is honored to have embarked on a Darfur Project as its inaugural partnership, undertaken with the 40-year-old, Washington, D.C.-based
Robert F. Kennedy Center for Justice and Human Rights. RFK's 2007 Human Rights Laureate is Dr. Mohammed Ahmed Abdallah 
, a Darfuri physician who has been working to establish a framework for peace and reconciliation in that wartorn region of Sudan. In spring 2009 he gave a public address at King Hall 
and then worked with students in the International Human Rights & Transitional Justice course who were researching efforts around the world, such as truth commissions, perpetrator accountability, redress of victims, and rebuilding of society. (In the summer, he testified 
before the Foreign Relations Committee of the U.S. Senate.)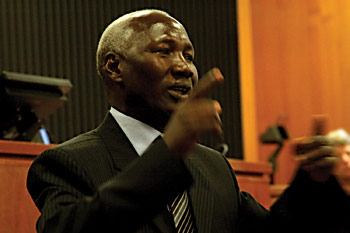 Aiding their study was a host of distinguished guest speakers on critical topics: Professor David Biale 
, University of California, Davis Department of History, "Comparative Genocides"; Marci Hoffman 
, Associate Director and International & Foreign Law Librarian and Lecturer in Residence, University of California, Berkeley, School of Law, "New Trends International Legal Research"; Professor Linda E. Carter 
, Professor of Law & Director, Institute for Development of Legal Infrastructure, University of the Pacific, McGeorge School of Law, Sacramento, "Justice and Reconciliation on Trial: Gacaca Proceedings in Rwanda"; Dr. Michael Kevane 
, Chair, Department of Economics, Santa Clara University, "Darfur"; Professor Beth Van Schaack 
, Santa Clara University School of Law, "Cambodia Documentation Project"; Harvey Weinstein 
, M.D., M.P.H., Clinical Professor at the School of Public Health and Senior Research Fellow at the Human Rights Center, University of California, Berkeley, "Victims and Transitional Justice"; and Gwen K. Young, Policy and Advocacy Officer for the Bill & Melinda Gates Foundation, Seattle, "Human Rights & Humanitarian Response." Collaboration continues.
Download the final report 
, released in March, 2011.