Dean's Blog
Blog Editors
Kevin R. Johnson
UC Davis School of Law
Web Profile 

Email
Vikram Amar
UC Davis School of Law
Web Profile 

Email
Recent Posts
Message from La Raza Law Students Association Board
Congratulations to the UC Human Rights & John Paul Stevens Public Interest Fellows
Immigration Lecture at the University of Cincinnati
Maggy Krell '03 Runs for Sacramento County District Attorney
Archive
Another Successful Patiño Banquet
Posted By Kevin R. Johnson, Apr 5, 2011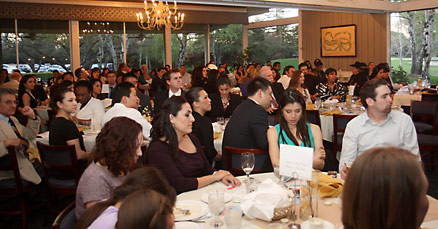 The Lorenzo Patiño Awards Banquet is always one of the most anticipated events of the year at King Hall, and this year's banquet brought an outstanding turnout of students, faculty, alumni, and friends of the Law School to El Macero Country Club on April 2.

The annual event, now in its 29th year, honors the late Lorenzo Patiño '73, who was a leader in Sacramento's Latino community, one of the first Mexican-Americans appointed to the Municipal Court of Sacramento, and a co-founder of the University of Northern California School of Law.  The banquet included a keynote speech by Arturo J. Gonzalez, Jr., co-chair of the Litigation Department at Morrison & Foerster, where he was the first Latino partner, as well as the presentation of the Patiño Award, which recognizes extraordinary community service and dedication, to Aidin Castillo '11 and Aida Macedo '11. Miguel Martin '84 was presented with the Distinguished Alumni Award and Professor Miguel Méndez won the Distinguished Faculty Award.  Congratulations to all the award winners, and thank you for all you've done!

The event drew an excellent turnout of King Hall professors, including Keith Aoki, Clay Tanaka, Cappy White, Amagda Perez, Leticia Saucedo, Cruz Reynoso, Miguel Méndez, and Alan Brownstein.  Also in attendance were Assemblyman Luis Alejo '01, Sacramento Superior Court Judges David De Alba and Emily Vazquez, and Justice Elena Duarte of the California Court of Appeal.  Congratulations to Emilio Camacho '11, who chaired the event, and the La Raza students for putting on another successful Patiño Banquet!