Dean's Blog
Blog Editors
Kevin R. Johnson
UC Davis School of Law
Web Profile 

Email
Vikram Amar
UC Davis School of Law
Web Profile 

Email
Recent Posts
Congratulations to the UC Human Rights & John Paul Stevens Public Interest Fellows
Immigration Lecture at the University of Cincinnati
Maggy Krell '03 Runs for Sacramento County District Attorney
Dr. Ives Basketball Tournament 2014
Archive
Lorenzo Patiño Banquet
Posted By Kevin R. Johnson, Apr 23, 2010
This year's Patiño banquet was a classy affair at the El Macero Country Club in South Davis.  La Raza Law Students, led by Emilio Camacho '11, did an excellent job of organizing the event.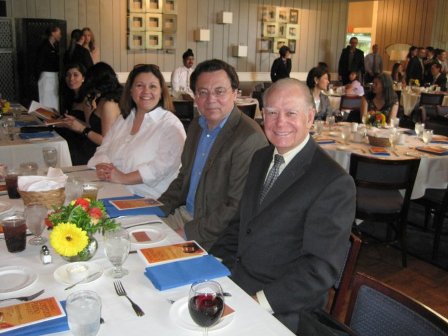 Me with my wife, Virginia, and Professor Emeritus Cruz Reynoso at the Patiño Banquet

Senior Assistant Dean Hollis Kulwin, Professors Cruz Reynoso, Alan Brownstein, Anupam Chander, Madhavi Sunder, Peter Lee, Emily Randon, Amagda Pérez, Clay Tanaka, Holly Cooper, and Cappy White were in attendance.  Alumni board member Kara Ueda '00 and former board member Kathryn Doi '85 also attended the dinner.  So did leading Latino lawyers from across the Sacramento area, including board members from La Raza Lawyers Association of Sacramento and Sacramento County Superior Court Judge David De Alba.  King Hall alumni included Sara Granda '09 and Odir Hernandez '08 (both former Patiño Award recipients), Christina Medina '08, Fernando Valle '02, Jose Hernandez '04, Frank Huerta '04, and, of course, Miguel Martin '84, founder of the Patiño awards banquet.

The Honorable Elena Duarte, a Sacramento County Superior Court Judge, was a wonderful keynote speaker.  She spoke about the importance of community service and told some touching personal anecdotes - such as how her father, a criminal defense attorney, used to joke that his daughter "turned out bad" because she worked as a federal prosecutor.

The Patiño Banquet is named after the late Lorenzo E. Patiño 
, a 1973 UC Davis School of Law graduate and the first Chicano municipal judge in Sacramento.  Judge Patiño was dedicated to empowering poor communities in the Sacramento area and founded the Lorenzo Patiño School of Law.  He died in 1983 after battling with leukemia.  He was 35.

Amparo Cid '10 was the recipient of the Lorenzo Patiño Community Service Award.  I know Judge Patiño would be proud of Amparo and all of the King Hall students who give back to the community.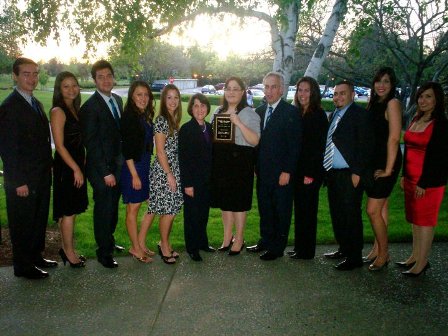 La Raza Law Students.  Amparo Cid '10 holds her award.  To the right of Amparo are Sacramento County Superior Court Judges David De Alba and Elena Duarte.

The presentation of next year's LRLSA board

I was very touched to receive a plaque from the students in recognition of my support of La Raza Law Students Association.  Emilio commented on how I had barbecued carne asada for the students' "Bienvenida Picnic" last summer.  Thank you for the award.  I am honored.

Congratulations to LRLSA on an outstanding Patiño banquet!