Giving
2009 - 2010 Donor Rolls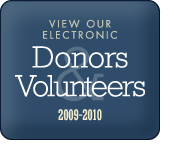 For the first time, UC Davis School of Law will recognize the extraordinary contributions made by alumni, friends, faculty, staff, and students over the past fiscal year (July 1, 2009 - June 30, 2010) through the online publication of Donor and Volunteer Rolls. The move online will make  information more accessible, support Law School efforts for sustainable business practices, and acknowledge the growing number of volunteers and donors supporting King Hall.
Donors & Volunteers 2009-2010 
Building Project Donors 
Using the online Donor and Volunteer Rolls, you can:
View full listings of donors for the 2009-10 fiscal year.
Access listings of volunteers who participated in activities on campus, hosted alumni receptions, contacted classmates for reunion efforts, joined students in career services activities, and helped in other ways.
Search the database to view information on class participation and giving totals for each class.
View listings of alumni donors by class, as well as listings of friends, faculty, and staff who have contributed.
Access information on Reunion Class Gifts, an increasingly important and successful part of the reunion efforts.
Gifts and pledges reflected in the Donor Roll and persons included in the Volunteer Roll are for July 1, 2009 through June 30, 2010 unless otherwise noted. Comments, suggestions, and corrections may be submitted to alumni@law.ucdavis.edu.