Transfers and Visiting Students
Welcome

UC Davis School of Law is pleased to welcome applications for transfer.  Each year, we admit a small number of exceptional transfer students with proven records of achievement.  These students go on to experience extraordinary success in their legal careers.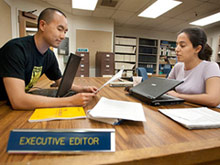 In recent years, transfer students have come from law schools across the country.  See the list of law schools here.
Students who transfer to UC Davis School of Law find a wealth of opportunities to become involved in Trial Advocacy, Moot Court, and student-run journals including the UC Davis Law Review.  "Transfer students are absolutely welcome at the UC Davis Law Review," said Editor-in-Chief Marissa Martin O'Connor.  "They bring a new perspective to the Law Review experience and are an invaluable part of our editorial staff."
Transfer students who graduate from UC Davis School of Law report outstanding career success.  The Law School seeks to provide transfer students with every career opportunity afforded to students who entered King Hall as a 1L.  "Transfer students have an excellent track record of obtaining positions at top law firms," said Craig Compton, Assistant Dean of Career Services. "Others go on to great success in public interest work or prestigious government positions."
Click on the photos below to meet four recent graduates who are happy they transferred to UC Davis School of Law.
Admission as a Transfer
Applicants who have completed at least one full-time year of work in another American Bar Association approved law school may be admitted to advanced standing with credit for not more than one year of such work. No application for advanced standing will be considered until the Admissions Committee has received transcripts for all prior law school work. Transfers are considered for admission in Fall semester only. If a student has earned units beyond the approximately 30 units earned as a first-year student, those additional units will not be credited toward the Juris Doctor degree at UC Davis Law School.  Learn more about our Transfer Application Process.
Admission as a Visiting Student
Each year a small number of non-matriculant, or visiting, students may be admitted on a space-available basis.  Only students currently enrolled in an American Bar Association approved law school will be considered for visitor status.  Visitors may not enroll in clinical program courses or Law Review.  Visitors pay fees to the school they are visiting.  Learn more about our  Application Process for Visitors.