Welcome
Madhavi Sunder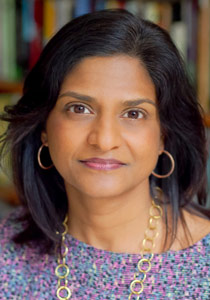 Madhavi Sunder
Contact Information
msunder@ucdavis.edu
530-752-2896
Rm. 1117 King Hall

Education
B.A.

Social Studies, Harvard University 1992


J.D.

, Stanford University 1997
Curriculum Vitae 
In the News
Professor of Law
Professor Sunder is a leading scholar of law and culture. She was named a Carnegie Scholar in 2006 and has been a Visiting Professor of Law at the Yale Law School, the University of Chicago Law School, and Cornell Law School. Her work traverses numerous legal fields, from intellectual property to human rights law and the First Amendment. Professor Sunder has published articles in the Yale Law Journal, the Stanford Law Review, the California Law Review, the Texas Law Review, and Law and Contemporary Problems, among others. Her book, From Goods to a Good Life: Intellectual Property and Global Justice, was published by Yale University Press in 2012.
Special Interests
Intellectual Property, International Intellectual Property, Trademark, Brands, Cyberlaw, Human Rights (Negotiating Gender, Religion & Culture)
Selected Career Highlights
Delivered The Mitchell Lecture, SUNY-Buffalo, Faculty of Law, Buffalo, NY (2013)
Delivered The Hochelaga Lectures, Faculty of Law, University of Hong Kong (2012)
Named One of 12 Emerging Scholars in Academia Under 40 by Diverse: Issues in Higher Education Magazine (January 2010)
More Career Highlights...
Visiting Professor of Law at the University of Chicago Law School (2008-09), the Yale Law School (Spring 2008), and Cornell Law School (Fall 2003)
Delivered the Oakley Center Lecture, Williams College, MA (May 2008)
Delivered the Miliband Lecture, London School of Economics, U.K. (March 2008)
Distinguished Teaching Award Nominee (2007, 2003, 2002, and 2001)
Carnegie Corporation Scholar 2006-2008
"IP3" paper selected for Stanford/Yale Jr. Faculty Forum (2006)
Honored as one of four "top young IP scholars" (by Lawrence Lessig, Professor of Law, Stanford Law School, 2006)
Delivered the Williams Project Lecture, UCLA School of Law (October 2003)
Honorable Mention, Association of American Law Schools (AALS) Scholarly Paper Prize (2002)
Law Clerk to the Honorable Harry Pregerson, U.S. Court of Appeals, Ninth Circuit (1998-99)
Associate, Cleary, Gottlieb, Steen & Hamilton, New York City (1997-98)
... Close
Selected Publications
More Publications...
IP3, 59 STANFORD LAW REVIEW 257 (2006)
The Romance of the Public Domain, 92 CALIFORNIA LAW REVIEW 1331 (2004) (coauthored with Anupam Chander).
Piercing the Veil, 112 YALE LAW JOURNAL 1399 (2003), excerpted in JUST ADVOCACY: WOMEN'S HUMAN RIGHTS, TRANSNATIONAL FEMINISM, AND THE POLITICS OF REPRESENTATION (Wendy Hesford & Wendy Kozol eds., 2004).
Cultural Dissent, 54 STANFORD LAW REVIEW 495 (2001).
Piercing the Veil, in JUST ADVOCACY: WOMEN'S HUMAN RIGHTS, TRANSNATIONAL FEMINISM, AND THE POLITICS OF REPRESENTATION (Wendy Hesford & Wendy Kozol eds., 2004).
Note, Authorship and Autonomy as Rites of Exclusion: The Intellectual Propertization of Free Speech in Hurley v. Irish-American Gay, Lesbian and Bisexual Group of Boston, 49 STANFORD LAW REVIEW 143 (1996).
Enlightened Constitutionalism, 37 CONNECTICUT LAW REVIEW (2005).
Intellectual Property and Identity Politics: Playing With Fire, 4 JOURNAL OF GENDER, RACE AND JUSTICE 69 (2000).
In a Fragile Space: Sexual Harassment and the Construction of Indian Feminism, 18 LAW AND POLICY 419 (1996) (published in Symposium on "The Right to Development").
GENDER AND FEMINIST THEORY IN LAW AND SOCIETY (editor and wrote introduction), (Dartmouth/Ashgate 2006).
Introduction, in GENDER AND FEMINIST THEORY IN LAW AND SOCIETY (Madhavi Sunder ed., 2005).
Foreword: The Subject and Object of Commodification, in RETHINKING COMMODIFICATION (Martha M. Ertman & Joan C. Williams eds., 2005) (coauthored with Margaret Jane Radin)
Property in Personhood, in RETHINKING COMMODIFICATION (Martha M. Ertman & Joan C. Williams eds., 2005).
(Un)Disciplined, 26 POLITICAL AND LEGAL ANTHROPOLOGY REVIEW 77 (2003).
A Culture of One's Own: Learning From Women Living Under Muslim Laws, in NOTHING SACRED: WOMEN RESPOND TO RELIGIOUS FUNDAMENTALISM AND TERROR (Nation Books 2002).
Comment on Stuart Kirsch, Lost Worlds: Environmental Disaster, Culture Loss, and the Law, 42 CURRENT ANTHROPOLOGY 189 (April 2001).
Apple Rips While Grokster Burns: How MGM v. Grokster Benefits Information Technology Companies, Findlaw.com (June 29, 2005) (coauthored with Anupam Chander).
The New Afghan Constitution: Will It Respect Women's Rights? Will Its Mixture of Religion and Democracy Work?, Findlaw.com (Jan. 15, 2004), republished on CNN.com (Jan. 20, 2004).
In a Trademark Case, The Supreme Court Recognizes That Art Flows From Multiple Sources, Findlaw.com (June 12, 2003).
Beauty Marred: The "Miss World" Riots, A Stoning Sentence, and the Conflict Between Religious and Secular Law in Nigeria, Findlaw.com (Dec. 5, 2002).
Why We Don't Lead the World on Women's Rights Issues: As Shown by An Unsigned Treaty, Not Cultural Imperialism, Findlaw.com (Oct. 10, 2002).
Book Review, The Pig Farmer's Daughter and Other Tales of American Justice, by Mary Frances Berry, Ms., May/June 1999.
Book Review, Lift Every Voice: Turning a Civil Rights Setback into a New Vision of Social Justice, by Lani Guinier, Ms., May/June 1998.
Book Review, Where Is Your Body? Essays on Race, Gender and Law, by Mari J. Matsuda, Ms., January/February 1997.
Note, Authorship and Autonomy as Rites of Exclusion: The Intellectual Propertization of Free Speech in Hurley v. Irish-American Gay, Lesbian and Bisexual Group of Boston, 49 Stanford Law Review 143 (1996)
India: Rethinking Sex Crimes, MS., March/April 1994
... Close