Welcome
Aimee Feinberg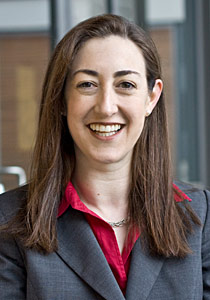 Aimee Feinberg
Contact Information
afeinberg@ucdavis.edu
(530) 752-1691
Rm. 1114 King Hall

Education
B.A.

Political Science and Economics, University of California, Berkeley 1995, Phi Beta Kappa


J.D.

, Stanford Law School 2002, Order of the Coif
Lecturer
Aimee Feinberg is the Director of the new California Supreme Court Clinic at UC Davis School of Law, the first and only clinic of its kind in the state.

Feinberg joined the UC Davis faculty in January 2012 after six years at Munger, Tolles & Olson LLP (MTO), where her practice focused on appellate and other complex litigation matters.  While working at the firm, she represented clients in matters before the California Supreme Court, the U.S. Court of Appeals for the Ninth Circuit, the U.S. Court of Appeals for the Sixth Circuit, the California Court of Appeal, the Federal Communications Commission, and state and federal trial courts.  She also represented amici curiae in cases before the U.S. Supreme Court.

Before joining MTO, Feinberg served as a law clerk to Justice Stephen G. Breyer of the United States Supreme Court (2004-2005) and to Judge David S. Tatel of the United States Court of Appeals for the District of Columbia Circuit (2003-2004).  Before beginning her clerkships, she worked at Covington & Burling in Washington, D.C. for nearly one year.
Full Biography...
Prior to law school, Feinberg served as Press Secretary to United States Congresswoman Lynn Woolsey (D-CA).  Feinberg also spent a semester during law school externing for the United States Senate Judiciary Committee under Chairman Patrick Leahy (D-VT).  She has also worked on numerous political campaigns.
Feinberg earned her law degree from Stanford Law School (Order of the Coif) and her undergraduate degree in Political Science and Economics from the University of California at Berkeley (Phi Beta Kappa).
... Close
Special Interests
Appellate Advocacy, Constitutional Law, Supreme Court
Selected Career Highlights
Litigator at Munger, Tolles & Olson
Law Clerk to Justice Stephen G. Breyer of the U.S. Supreme Court
Law Clerk to Judge David S. Tatel of the U.S. Court of Appeals for the D.C. Circuit