Dean's Blog
Blog Editors
Kevin R. Johnson
UC Davis School of Law
Web Profile 

Email
Vikram Amar
UC Davis School of Law
Web Profile 

Email
Recent Posts
Congratulations to the UC Human Rights & John Paul Stevens Public Interest Fellows
Immigration Lecture at the University of Cincinnati
Maggy Krell '03 Runs for Sacramento County District Attorney
Dr. Ives Basketball Tournament 2014
Archive
California Aggie: Wajahat Ali '07 "Triumphs"
Posted By Kevin R. Johnson, Mar 5, 2010
2007 graduate Wajahat Ali is making headlines again.  This time, it's in the California Aggie student paper at UC Davis.

An article in the Aggie is titled "UCD Law graduate triumphs as playwright, writer."   It reads, "It's been just three years since Wajahat Ali graduated from UC Davis School of Law. Already, the nation is beginning to take notice of the man hailed as one of today's most influential Muslim American artists."

The Aggie article quotes Professors Joel Dobris and Carlton Larson.  Some of us remember when Professor Dobris performed with Waj in Cardozorama, the annual King Hall talent show!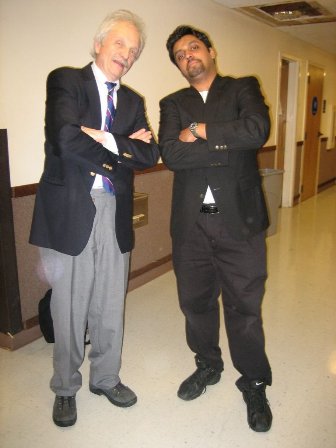 Photo from ericsphlog.blogspot.com

Wajahat has been winning a lot of praise for his play "The Domestic Crusaders."  He also wrote a great essay that ran in San Francisco Panorama, in which he details his battle against Wells Fargo in an effort to save his clients' home from foreclosure.  It's an incredibly creative essay; in it, Wajahat likens the bank to a ferocious bear.

Aggie news article: http://theaggie.org/article/2010/03/04/ucd-law-graduate-triumphs-as-playwright-writer 
School of Law news item (including links to Ali's play and Panorama essay): http://www.law.ucdavis.edu/news/news.aspx?id=2559